Watch this page for more information (and see links at the bottom).
Also see on the home page, center column top, how to access a
dozen sharp video interviews

on the 2019 "

5G Crisis Summit

."
What to do? Start by (click:)

sending this letter

on 5G to an important congressman who controls the FCC.
In 2019 the wireless industry is in accelerated overreach mode with 5G!
First be clear: 5G is not a minor upgrade from the common (also dangerous) 4G. It is a whole new animal, requiring a new antenna network, radically new phones, radically new types of electromagnetic waves, and new kinds of transmission of waves — all without any testing of its powerful products' effects on humans or animals! [See this 5-min video of industry operatives admitting exactly this to Sen. Blumenthal].
5G saturation is planned for both urban and rural communities, but implementation will first start through 2019 in several medium and large cities. The FCC (handmaiden to the wireless industry) has pushed hard to clear the way for the thousands of new closely spaced small towers that industry wishes to place in cities. It issued an order, effective in January 2019, that in effect removes city and county planning agencies from making decisions about antenna location, land-lease fees, right-of-way usage, and definitely disallows health concerns. Many cities and the National Council of Mayors are suing the FCC (since early 2019) about this loss of local sovereignty and a bill with 30 co-sponsors has been introduced in Congress to put a stay on this regulation.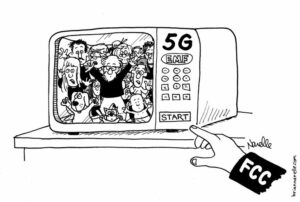 Locally, CLEAR is beginning to approach local authorities (County Commissioners, Planning Commissioners, Langley City Council, etc.) about how to avoid adopting any sovereignty-limiting regulations before lawsuit and bill outcomes are known. Many governments in California and elsewhere are right now pushing back on the overreach of wireless companies and the FCC. (E.g., see this inspiring purchase Lyrica in canada 7-min video of Danville, CA citizens legally confronting Verizon through their city council.)
A good printable informational start is these two PDF pages about 5G from a trusted source: can you buy clomid online uk Environmental Health Trust (EHT)
Or you can witness technically literate and articulate Senator Colbeck of Michigan describe in 9 minutes his concern about the push to 5G in this video.
And finally to get the full 5G picture, including the wild plan of Elon Musk, details sbout the technology, and hidden dangers created at every level of our lives, even our inner peace, by 5G, take 15 minutes to read this fascinating and informed longer article by Josh del Sol.
Are you wondering how local government can contend with the FCC push to have them give up their sovereignty in locating and leasing small cell towers to any wireless telecom that has a whim? Click this link to see a summary Mark prepared for the WA 10th Legislative District on info and options for facing off the 5G push: Link